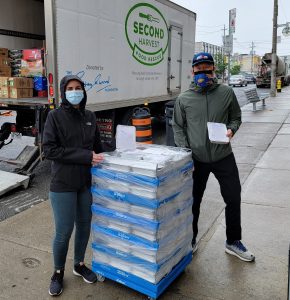 These last two years, LA CENTRE has seen significant changes to our personnel and the suspension of our in-person programming while navigating the global COVID-19 pandemic. LA CENTRE for Active Living has seen plenty of change over the last two years!
Re-Energized Leadership
One of the biggest changes at LA CENTRE for Active Living has been the recruitment of two new Board Members  and a new Executive Director (ED). Our new Board Members bring their expertise in human resources, financial management and operations to LA CENTRE.
Furthermore, for the first time in our history, LA CENTRE has a full-time ED. As the new ED, I bring my experience in administration management and program facilitation to the Centre. I hope to navigate the Centre through the duration of this pandemic and come out stronger than ever. In working with our Board and building positive relationships with our members and stakeholders, I am tasked with guiding the Centre towards its goal of increasing our capacity to meet the growing needs of seniors, strengthening our organizational foundation, and position the Centre for growth.
Although many difficult decisions were made to get to where we are now, the Centre and our team can confidently say it is fostering a culture of respect, inclusion, and diversity throughout the organization.
Pandemic Program Delivery
In March 2020, LA CENTRE suspended our in-person programming for what was to be two weeks. More than two years and several provincial lockdowns later, our programs are just beginning to transition back to in-person, and under strict public health protocols as we continue to face COVID-19.
With the closure of our in-person programs, the Centre turned its focus to food security. Through partnerships with Second Harvest, Food Rescue, Humber Storefront, Maple Leaf Sports and Entertainment, Scotiabank, and many others, LA CENTRE has succeeded in delivering over 50,000 meals and pantry bags to seniors in our community over the course of the pandemic. LA CENTRE continues to prepare and deliver 500+ pantry bags and frozen dinners each week. A big THANK YOU to our volunteers who have worked tirelessly to deliver this essential food straight to seniors' doors each week!
Additionally, a special grant from the Ministry of Seniors and Accessibility enabled LA CENTRE to expand our Rankin kitchen in 2021 to improve our capacity to prepare healthy meals in-house through the purchase of a new stove, hood, refrigerator, and freezer.
In July 2021, LA CENTRE also introduced its first virtual program: Virtual Zumba. Every Tuesday and Thursday, we host two classes via Zoom to deliver our bi-lingual Zumba classes. Grants from United Way and the New Horizons for Seniors Program provided the means to expand our technology inventory to make this virtual program possible. Members with no access to a personal device can now sign-out laptops and mobile Wi-Fi device from the Centre to participant in our Zumba program. This program gives space for our members to remain active from the comfort and safety of their homes.
It is a very exciting time at LA CENTRE and we are looking forward to this positive path forward as we continue thriving to meet our mission, vision, and values in serving seniors in our community.
Take Care,
Jaymie Daunt
Executive Director